Welcome to Ghoulish Delights
The Mysterious Old Radio Listening Society returns to the James J. Hill Center!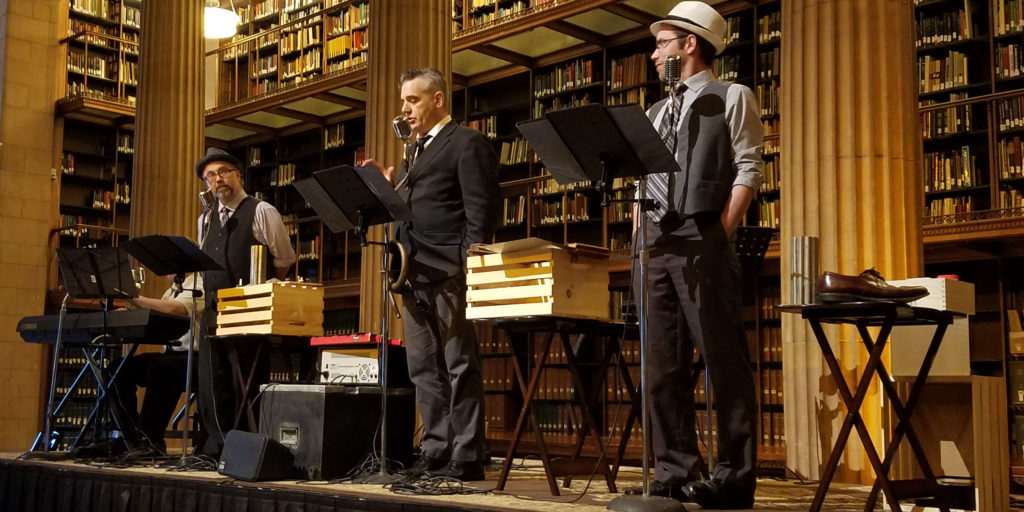 The Society returns to the James J. Hill Center for stories from the classic old-time radio vault, complete with historical notes and trivia. Our performances re-stage the great horror and suspense shows from the golden age of radio, including tales from Suspense, Lights Out Everybody, The Witch's Tale, The Shadow, and more. Each episode is performed live on stage with five actors playing multiple roles and producing all of the sound effects.
Sunday, October 29th,will feature a performance of "Dracula" from The Mercury Theater On The Air, which originally aired July 11th, 1938
A young solicitor journeys to the Carpathian Mountains to help a nobleman immigrate to England, but for what purpose? Who is the mysterious Count Dracula and why does he travel with boxes full of Transylvanian soil? Bram Stoker's classic novel has been adapted many times for stage and screen, but Orson Welles' radio version is widely regarded as the best.
Date: Sunday, October 29th
Time: 3:30pm to 4:30pm (pre-show music at 2:45pm with Kings of Cole)
Fee: $15 per person ($20 at door)
For group rates, call 651.265.5430
"Wonderful people, beautiful place, and an artistic experience that I'll remember forever!" – Previous Attendee
Get an inside peek at the James J. Hill Center before the show with our 1:30PM historical tour "Cabinets of Curiosity".
These episodes of "Mysterious Old Radio Listening Society" are financed in part by the Cultural Sales Tax Revitalization Program.